Please join my group! It is


My group is all about people, amateurs to professionals, being able to show off their art, compete in contests, get featured and their art shown to the world, and for support to be given and recieved! Anyone is free to join and submissions are open!
























Hello!

If you want to do an art trade with me, or a collab, then just let me know in a note or something and I will get back to you!



Look at this! My real birthday! Yeah, it is January 22!

I am already celebrating!

Haha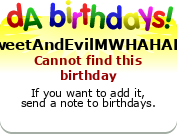 Hello All You Wonderful Awesomesauce People!


I am a nice, happy person with a wonderful life and a passion for: Photography, Writing (Poetry/Story), and Digital Art! I really don't bite and am very understanding, so if you ever want to take, about happy or sad, big or small, or scary or wonderful, then just let me know and we can chat away and into the night!


So feel free to look around my Gallery and please do comment, favorite, and MY favorite-> watch!
I, as everyone does, love feeling loved, so your watches and comments/favorites make my day, everyday!


About me? Well...um... I love to make people laugh and humor is my not-so-secret weapon! And I love helping people out, it makes me feel so happy and good.
If you want to know anything more about me, then just shoot me a note or comment on one of my journal entries down near the bottom of the page!


Thank you all, each and every one of you beautiful souls!



Have spare points hanging around? Want to give points to someone of good cause? It would be MUCH appreciated if you can and would donate to me:
SweetAndEvilMWHAHAHA.deviantar…



Yesh, These Are True:



























Thank you all so much!



:bigthumb360640287: